Getting Started
The Houston Region Autocross Program
We invite you to look into this flavor of motorsport. We offer a complete schedule of Autocross events; Tours, Divisionals, 12 event Regional series and more. We generally hold the local Regional event on the first Sunday of every month. For more information on current upcoming events, check the calendar on the autocross home page, or on MotorsportReg.com.
---
About Autocross
The skills required to be the fastest car around a pylon marked course are the same as at Texas World Speedway. While the competition puts a premium on driving skills – with the fastest time often decided by a blink of an eye – this low-cost, low risk motorsport gets your adrenaline rushing through your system and makes you feel like you've just set the land speed record. This is what makes SCCA Autocross so attractive and entertaining. Autocross is a low risk motorsport due to the speed limits placed on it and is low cost because you can use your daily driver – but, believe me, that does not reduce the excitement level in the least.
How many of you can say that you wouldn't get a thrill going into a 90° corner at 50 mph, holding the gas pedal to the floor until the very last second and then cramming the brakes to just before full lock-up so that you can negotiate the corner? Imagine what it is like weaving back and forth through a series of cones – with your gas pedal foot to the floor – and still keeping the car under control; you finish the run and are leading the competition by .245 seconds. Will the competition catch you or is your lead of 245 thousandths of a second ENOUGH? This is indeed low cost, low risk motorsports!
Yes, YOU can successfully compete in your mechanically sound daily driver street car! The Houston Region offers Street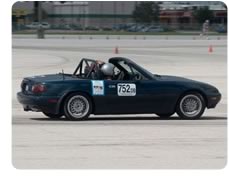 tire classes, Women's Classes, Open classes and novice classes. All of these classes are then broken down into like car types and levels of preparation, so your Toyota Camry will not be in head to head competition with a souped up Mustang Cobra. It is not uncommon to see mom or dad competing against their 16-18 year old son or daughter. This form of motorsport has more driver participation than any other form in the country. Each year there is a National Championship held in Lincoln, Nebraska, where people from all over the U.S. and Canada (and occasionally from overseas) compete to see who the best drivers in the nation are. Last year there were just over 1,100 drivers competing in Lincoln and this year I expect even more.
---
Getting Started at a Autocross Event
So, you've just been invited to autocross with some friends of yours, or you're just planning to go to get some all-important "get to know you time" in your car. Do you know what to do when you get there – or how should you act?
Here are some quick tips:
Find out where the event is being held
Then make sure to get there early.  The locations for the next two events can always be found on the Autocross Home Page.  The site is typically accessible around 7:00am.  Registration opens around 7:30am.
Get to registration
Try to know what class your car will compete in before you get there.  Information on autocross classes is available on the Autocross Rules/Classes Page.
Go to Tech Inspection
Get all junk out of your car before you go to tech inspection.  This includes (but is not limited to) the driver's side floor mat.  Bring your helmet to tech inspection, unless you plan on using one of the available loaner helmets. See the helmet FAQ below for helmet requirements.  Helmets not passing tech inspection will be confiscated (so that they may not be used during the event), and returned at the end of the event.  Before taking your car to tech inspection, put your car number and class letters on both sides of the car.  Per section 3.7 Vehicle Identification of the Solo Rulebook, the car numbers must be at least 8″ tall with at least a 1.25″ stroke. Class letters must be at least 4″ tall with at least a 0.75″ stroke.  Numbers and class letters must be applied to the body, not to the windows. If you don't have any other option, you can use painter's tape or printed numbers on paper.  In any event, have some consideration for the workers in the timing truck as well as the corner workers, and make sure that your numbers are legible.
Walk the track at least one time
Walk it by yourself before the Rookie Walkthrough.  Also attend the Rookie Walkthrough with an instructor.
GO TO THE DRIVER'S MEETING!
Attending the Driver's Meeting is REQUIRED.  Pay attention to the P/A announcements, and take note when people start gathering around the timing truck.  They will introduce event officials, cover required tasks, upcoming events, safety items, what not to do and drivers entry log.
Run in your heat.
This is obvious, so I'll leave it at that.
Work when you have been assigned!
This must be said as long as there are folks out there who race and then leave without working.  A driver who skips out on his/her work assignment puts  others in danger.  Their departure can impact our ability to even run the event.  They also run the risk of not being able to run in future events.
Bring food and water to the event and find some time to eat and drink!
The Houston heat will "get you" if you are not prepared. It does you no good if you're out there hallucinating because your body has used up all its glucose.
Clean up after yourself!
Bring in your own trash bags or use the provided trash cans.  We have no cleanup crew out there, we're all adults and we can clean up after ourselves.  Not cleaning up could eventually get us kicked off the site.  If you don't want to clean up too much, then don't make any mess.  Treat the event as you would a campsite.  When it doubt, pack it out!
---
Andy Hollis' Top 10 Tips
Whether you are a novice or experienced competitor, these tips from autocrosser extraordinaire Andy Hollis are useful:
---
Frequently Asked Questions (FAQs)
How can I get more runs at an event?
Jeff Thomson
2019-02-05T17:24:06-06:00
Double Entries are allowed on a limited basis to members.  There is no pre-registration for double entry.  Communicate your interest in double entry to the worker chief at registration.
DB entries are for timed runs only and do not count towards any trophies, points, etc.  The number of Double Entries (DB) allowed at each Regional event is solely at the discretion of the Autocross RE.  The Autocross RE may disallow all DB entries at any regional event. Pricing will be as voted on by the Autocross committee.  Currently it is set at $20.
For split session days: the entrant must run their normal class in the first session of the event and make the DB runs in the second session.  All DB entrants will work at least once in each session and may be required to assist in pick-up at the conclusion of the event at the discretion of the DB
organizer.
For single session days: a DB entrant will perform their DB runs in the same run heat in which they perform their competition runs. The entrant will perform their competition runs, replace their competition class letters with DB "class letters", and then perform their DB runs.  They will line up in
the double driver line and perform all their runs consecutively in sequence with the double drivers.
A second work assignment or help with tear down is at the discretion of the DB organizer.  If there are two drivers competing in the same car, in the same class, they will be ineligible for participating in DB.